The Midlands Model Flying Club kindly invited My dad & I down to their Annual 'Big Fly-in held at their club site near Kilcormac Co. Offlay. My dad, my wife Lisa and I headed off early with a van fully of models ready for a great days flying. When we arrived we were warmly welcomed by the club and quickly got unloaded and ready for a few flights. The fly-in itself was a 3 day event and a lot of flyers had elected to make a weekend of it and camped on site. There was a great array of aeroplanes and heli's on show and the sky was never empty, it was common to see 3 & 4 aeroplanes up at once as everyone made the most of the near perfect flying condition. The flying site is set in the middle of re-claimed bog land and there isn't a house in sight, an ideal place for a flying club. The club have great facilities with a large lean-to providing shelter on the wetter days.
I had brought to fly the Hangar 9 35% Extra 300 powered by DA120, the 43% Carden Extra 300 powered by DA200 and the 42% Carden Extra 300 PRO powered by 16kw Predator Motor on Optipower 7s Lipo's. The H9 extra is one of my all time favourite models, it performs precision and 3D flight equally well and I always enjoy throwing it about. The DA200 powered Carden is getting on in years, 5 years old now, but it's still one of the most competitive IMAC airframes on the market. It has served me well over the years and continues to. The smoothness of the excellent DA200 has really kept this airframe fresh and my dad's meticulous maintenance routine has kept this combination at the top of it's field. Our newest aircraft is the Electric powered 42% Carden PRO, fitted with a 16kw Plettenberg Predator 37/6 Evo, JETi spin 300 ESC and new Optipower 50c 7s 5300mah Lipo's, wired as a 14 cell 15900mah pack, give this airframe stunning performance. We are still very much learning this new aeroplane and with the latest 50c lipo's from Optipower have limited the power to 70% of what this motor is capable of, we still have enough power to fly any IMAC sequence, our quest now is to work on timings to increase our efficiency and see if we can improve on our 10min flight time. I also flew the Blade 350 Qx and had the Go Pro onboard, the quad performed perfectly but the operator needs some work, I had selected the wrong mode on the Go Pro so only got a shot of me switching the camera on, aerial photography at it's best. J
Lisa and my Dad were on the camera at various stages and got some really nice shots between them, my Dad's new Canon D70 is working well. You can see some of the shot's below.
I must thank all the members of the club, they really made us feel welcome, food & drink vouchers and really keen modellers very interested in all our models and in particular the new big electric. I found these 2 youtube clips online, so I can't take credit for them. We had a great day and will definitely be heading back next time.
My H9 Extra 300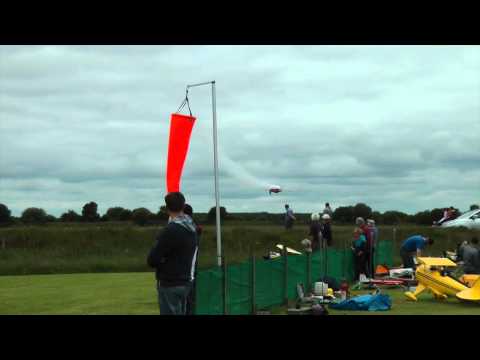 Onboard from a Quad (one with the video on this time!)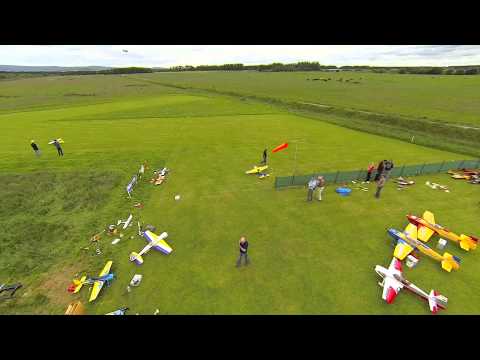 Thanks,
Matthew